Farmhouse Jar Candle - 26 oz.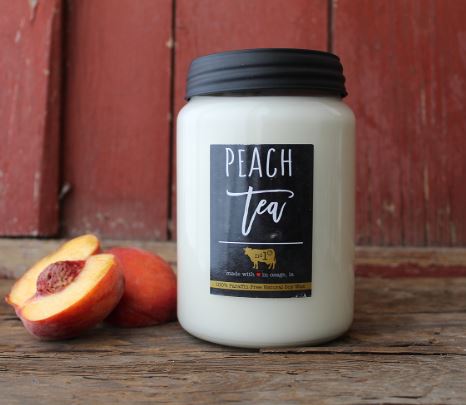 Farmhouse Jar Candle - 26 oz.
The farmhouse collection was inspired by the rural life we love. A "chalk board" style label is paired with fragrances that evoke memories of simpler times.
Soy wax infused with beeswax - 100% paraffin-free

Made in the USA
Currently available in 6 fragrances:
Chasing Fireflies -Lime & sugar cane blended with sweet vanilla and coconut.

Cup O' Joe - Robust coffee accompanied by notes of vanilla, cinnamon, & hazelnut.

Milk & Sugar - Caramelized sugar and warm milk combined with notes of vanilla and nutmeg.

Morning Dew - Luminous bergamot, sparkling yuzu, dewy lotus and oriental poppy flowers highlighted by wild hibiscus and garden mosses wrapped in sensual patchouli, soft cedarwood and amber-infused musk.

Peach Tea - An infusion of white dandelion tea steeped with summer peaches, nectarines, and sweet jasmine petals. Sweetened with a touch of honey.

Sweet Molasses - A blend of syrupy molasses, vanilla, caramel, and cinnamon.